On 21-24 March 2017 in Visegrád, Hungary, our EVS volunteer Livia participated in an EVS mid-term evaluation meeting. Here, she shares her experiences:
Hello everybody!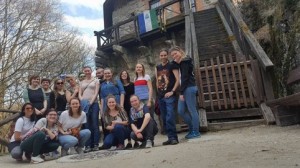 I am Livia, the Italian volunteer for Phiren Amenca, and I would like to share my experience with the EVS mid-term evaluation meeting. I arrived in Budapest almost four months ago and I wasn't able to go to an on-arrival seminar with the other EVS in Hungary and I was a little bit disappointed, because I didn't have the opportunity to meet any volunteers and to have a clear explanation about my rights and duties as a EVS. Finally I received an e-mail from the National Agency and I had been invited to attend to the second EVS seminar of the year. I took the bus and I reached the venue for the seminar, which was a beautiful hotel with spa in Visegrád. On the bus I met half of the other participants and I started to share my experience with them, finding a lot of common points and interesting topics for reflection. As we arrived, we waited for the other volunteers for almost one hour, enjoying the sun and the warm spring weather, chatting all together. It was very nice meet so many youngsters from different part of Europe who decided to spend one year in Hungary, volunteering in different fields and in different cities. There was a big group of Spaniards, Germans, Poles, Italians and Hungarians from Serbia and Romania. The majority of them already knew each other, because they already had a seminar together in October, but it wasn't a problem for me: in this situation everyone is friendly and open to meet new people, and I was sure about the fact that at the end of the three days I would get to know all of them. A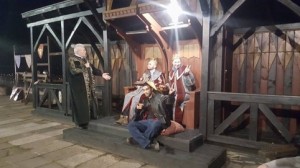 nd so it was.
The weather was beautiful and we spent part of the three days outside in the garden of the hotel. We were very close with each other, and I felt as a part of a group. One day we also had a little excursion to the castle of Visegrád and it was beautiful walk all together in the woods, up to the top of the hill. There we found out that we had to pay to visit the castle, and we choose to take a picture outside! The aim was to reach the top, and we didn't want to pay! The way back we split into two different groups, and some people decided to go back with the same way, while I and others took a different way and we found another part of the castle, following a path with a beautiful view to the river Danube.
For the evening we attended a nice and funny medieval show in the castle, we dressed in clothing of the era and we had a wonderful medieval dinner in a close restaurant. I really enjoyed the food in those days and I could not stop eating!
Three days passed so fast, and the last morning arrived. I was so sad to leave all those nice people, but at the same time, I was full of energy!
This is another experience that I enjoyed thanks to my EVS!