The study session was organized by Phiren Amenca, the European Union of Jewish Students and the Council of Europe. The aim was to raise solidarity, awareness and capacity of Roma, Jewish and non-Roma/Jewish youth activists and their organisations in combating racism and discrimination, especially antigypsyism and antisemitism.
Marian Fieraru, an EVS volunteer in the Phiren Amenca coordination office for 2016-2017, shares his reflections on participating in the study session:
Basically, it was a wonderful experience, one of a kind; the facilitators made a very good job, giving their best to teach us all about racism, discrimination, stereotypes and prejudices often associated with both Roma and Jewish cultures.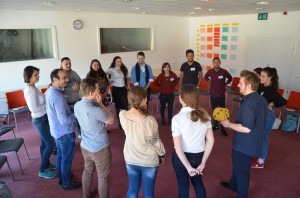 In the beginning of the seminar we've been introduced to each other and played a game for this matter, just to help us keep in mind everyone else's name. The various interactive activities facilitated by Alina Brickman, program officer of EUJS and Denisa Samková, board member of Phiren Amenca helped us to learn how to work together.
'Kethane Kadima' – this name hasn't been chosen for no reason: a combination of Hebrew and Romani languages, it means 'Together Forward' which refers to both Roma and Jewish cultures.
Benny Fischer, president of EUJS & Sámuel Mágó trainer and volunteer of Austrain-based NGO 'Romano Centro' have presented two beautiful sessions about Antigypsyism and Antisemitism, talking about the history of Roma and Jewish people in Europe in the last centuries and the usual stereotypes associated with them.
Mid-week we've had to choose between 4 different parallel workshops: "Combating Hate Speech", "Advocacy", "Non-Formal Education" and "Local Actions". I personally chose "Non-Formal Education" because I felt the need to know more about facilitating a workshop, how to deliver a certain message to the plenary, the thinking behind the actions and the reflection afterwards, group speaking and the steps in organizing a workshop. Our dear colleague, Sára Szilágyi, took part as well in presenting us tips and advices on how to facilitate together with Ruxandra Pandea from Council of Europe.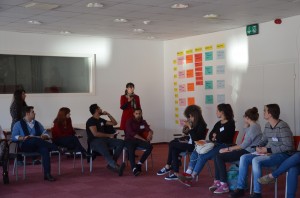 In the last two days, we developed project ideas in groups which can be applied in the future. The project in which I took part in developing it is: "Voices of Minorities" – a series of events which would strengthen the bond between Roma and Jewish communities; music, theatre, poetry slam, rap, fashion, food, storytelling, you name it. There were as well ideas of projects based on non-formal education, Holocaust commemoration, combating hate speech, a protest march designed for helping a Roma community in Nis, Serbia which is out of electricity.
All of the projects have been presented and analyzed by the facilitators and experts which gave feedback highlighting the strong and weak points of the projects.
The seminar has ended with a dinner arranged by the Jewish participants who gave us a glimpse of what the Shabbat is like. I have to say it was a once in a lifetime opportunity as I didn't know anything about the Jewish culture before participating in this study session. We sang together a few traditional Jewish songs like: "Hineh ma tov", "Adon Olam", "Lecha Dodi" or "Hava Nagila".
Thomas Hammarberg, former Commissioner for Human Rights at the Council of Europe, said: "Europe has a shameful history of discrimination and severe repression of the Roma. There are still widespread prejudices against them in country after country on our continent."
Following his statement, I strongly believe that this kind of seminars help raising awareness and solidarity for Roma people all over the Europe. All humans are being born free and equal in dignity and rights. Roma people are definitely NOT an exception.
by Marian Fieraru