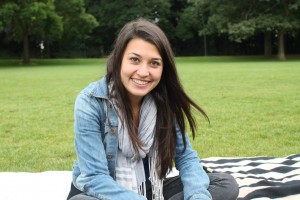 My name is Adèle, I am French and I am doing a volunteering in Uzghorod, in Ukraine, for nine months. I studied Psychology in Paris, Lyon and Brussels, with a specialisation in Social and Intercultural Psychology during my master's degree. My objective was to work in the social field or international cooperation. I had the opportunity to do internships and student jobs with children and adolescents with psychosocial difficulties, which strengthened my desire to work for this cause.
That is why I decided to join a volunteer program after my studies, looking for an interesting social work experience. Now, I am part of TOUCH project, which cares for needy children in Uzhgorod. I mostly work in a primary school, in which I have great freedom. I teach dance classes, I do crafts, I help teachers during their lessons… We also get young children to prepare them for their future lives of students. The best times are when we open the doors of the school to parents for various shows and performances!
Also, I help occasionally in other structures, such as an orphanage.
I still have some free time for my hobbies, including sports, travelling, hanging out with friends … And I teach French to Ukrainian people, which gives me the opportunity to share about my own culture.
This volunteering is a nice professional experience, but also personal. I get as much affection as I give to children, I meet very interesting people, I learn about Roma and Ukrainian cultures, I discover beautiful places…
To summarize, I would say that volunteerism is the perfect way to combine professional learning, and cultural openness!