"Tools for Roma Youth Participation –
access and opportunities of Roma youth in the policy processes
What opportunities young Roma people have for community participation? How can we encourage young people to participate and involve decision makers to make efforts for this?
In April 35 young activists, volunteers and youth workers came together from different countries in the 5 days seminar in Turin, Italy to discuss current Roma youth issues and future policy orientations for the participation and inclusion of Roma youth and to develop policy recommendations to policy-makers and stakeholders, based on the discussions, experiences and expertise they gain during the training.
Participation in decision preparation and desicion making processes is an especially focused topic, because as the organisations of Phiren Amenca International Network recognise, young people, especially Roma young people are rarely involved in local, community or national discussions about issues which affects their life and opportunities.
This is why Phiren Amenca is a network of Roma and non-Roma volunteers and voluntary service organizations, creating opportunities for non-formal education, dialogue and engagement in order to challenge stereotypes, racism. Phiren Amenca as coordinating organization manages and developes quality of exchange programs, increases the capacity of organizations.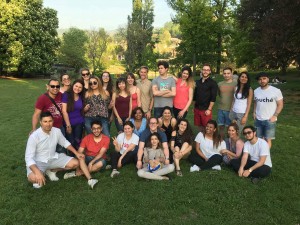 During the seminar the participants improved their negotiation, advocacy, communication and cooperation skills, changed experiences and information about the challenges of Roma people in their countries, worked on campaignes and actions, learned about the mechanism of antigypsyism.
"I expected to meet people from different countries and work together to learn about issues facing volunteers, and we did! It was more fun than I expected."
What participation means for young people? As they described it is an active process of interacting others, taking active part in decision making, sharing opinions and ideas, to make any changes, through volunteering, involvment, taking responsibility for a group, organization, cause, movement. Volunteering is one of the most effective tools of participation as they mentioned.
The co-organizer Phiren Amenca network organization of the seminar was Diaconia Valdese (Commissionale Sinodale per la Diaconia), as a voluntary service organisation, prepared the sessions about situation of Roma people in Italy, meetings with local NGOs and informal movements helping Roma and migrant people. We could meet
Representative Fredo Olivero of Pastorale Migranti who has been working for 40 years in to help Roma people move from the camp and receive documents, working with 3-4 generations of Roma families. Municipality of Turin together with Asai Intercultural organization presented their work on the field of education of Roma children ,Marina Sutelli introduced the challenges and successes of their work. Arte Migrante is a non-formal movement of migrant and Italian artists, activists, who provide space and forums of processing traumas and obstacles of marginalized people. Diachonia Valdese also introduces their work int he field of health care, social services.
Regional Assesor Monica Cerutti responsable of Equal opportunities and rights, Youth Policies, Right to study, Immigration, International cooperation and Consumer rights also visted the seminar and mentioned the importance of empowerment of Roma youth for the integration of Roma in the society. She was speaking also about the challenges that the institution have on building dialogue with the Roma community. She presented also the new law of antidiscrimination which has as its objective the promotion of equal treatment and the prevention of racial discrimination against citizens and citizens of Third Countries.
During the training we developed follow-up activities and encouraged participants to join the preparation process of the next bigger international activity of Phiren Amenca in Strasbourg which is built up around the European Youth Event (EYE) in June 2018.
Participants emphasized that they received useful, valuable and self-improving program during the Seminar, which will help their involvement and activity of youth issues in their community.
"I do believe that the seminar offered me more than I actually expected. Valuable information, practices and strategies how to better advocate for my personal goals."
The activity was funded and supported by the European Youth Foundation of the Council of Europe.