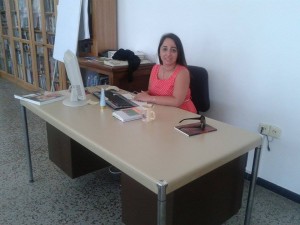 Hi everyone, my name is Krisztina Kőszegi. I was born in South Hungry, close to the Croatian border, in a mix family. My father is Beás and my mother is non-Roma.
Because my parents have always considered our education with my little brother, education as one of the most important things, they offered me to go to Gandhi High School, Pécs, Hungary. At that time this was the first and the only high school for Roma children in Europe. I decided to continue my studies there in the 6 class high school system.
After I graduated in the high school, I was accepted to study as a para-legal, since I always wanted to became a lawyer and help to Roma with the obstacles of a lawyer and via law. After I finished this study, as not being accepted to the law school, I decided to look for another options how could I help to my people. Fortunately, I was accepted to the Department of Social Work and Social Policy at the University of Pécs, and gained a Social Work BA degree. During my studies at the university, I was a volunteer at FAÁG Association Branch where disadvantaged Roma children, mostly from orphanage were in touch with. I was engaged with my colleagues in the activity that was focused on how to strengthen the pupils' identity, and to learn more about the culture of the Roma subgroups in Hungary. Also, I was working for two years in Snétberger Music Talent Center, Felsőörs, Hungary.
In 2012, I have been enrolled in the Roma English Language Program at the Central European University, Budapest. In this program I had the lack to meet young Roma all over Europe and give me the motivation to deal with Roma issues in a broader, international level. Thus, I applied to the Roma Graduate Preparation Program at the Central European University where I was accepted and got Human Rights tutorial classes, and prepared to Human Rights master. I regarded this opportunity that I could go back to my original plan, to work with the obstacles of law, however in a bit different way.
In 2014, I started my studies at the University of Vienna in the two years Human Rights Master Program. Since my stay in Vienna, I got in touch with Romano Centro and participated in the first Roma Youth Conference on Antigypsism, Putren le jakha!- Open your eyes! I was happy that I could join the group to visit Lackenback and we remembered the victims of the Roma Holocaust, the horrible things happened with thousands of Roma during the Word War II. Later on, I participated on the seminar series organised by Romano Centro about Jasenovac, the former death camp lead by the Ustasha regime.
As the compulsory element of my studies in the Human Rights Program, I decided to serve my internship at Romano Centro, since I regard the organisation as a worth to get to know it better and work with. I am happy that I can work at Romano Centro as a volunteer, as well.
My service will long one year. My tasks are related to the field of human rights with a special focus on Roma. We will work on the second Antigypsism Report in Austria that will be published in November 2015 and a seminar series will be organised on, how to combat discrimination.