A 2-day meeting of Hungarian EVS organizations was organized by the Hungarian National Agency on the 5th and 6th of December in Budapest, where Phiren Amenca was represented by Anna Daróczi EVS coordinator.
Approximately 26 people participated from 20 NGOs who fulfill the roles of either sending, or receiving or coordinating or all of these of EVS projects.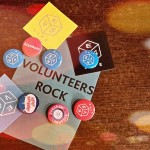 There were three main topics iscussed: the European Solidarity Corps; possible reasons of the high number of recent dropouts; and communication (internal, external, in differents phases of a project).
We spent almost a whole day with discussing, asking questions and venting about the ESC, which all parties had at that point unclear information about. All participants could ask questions about the planned roles and rules of the planned program from the staff of the Hungarian National Agency.
In the afternoon we participated in the EVS Live event, where beside official speeches we heard personal peresentations of former and current EVS volunteers and organizations. This was also a great opportunity for networking, as many organizations were represented.
The second day was about sharing experiences in small groups and best practices. We covered crucial topics, such as communication about projects with the outside world, and potential volunteers; communication and problem-solving with voulnteers, and keeping in touch with them after their service. Experienced organozations shared their practices about welcoming volunteers, crisis intervention and keep volunteers involved in the work of their NGOs after the service finished.
We also had a chance to explore reasons for the increasing rates of dropouts. We ienitified internal and external reasons, such as inadequate pairing between volunteers an projects, personal crises, as well as changes in the job market.
This event, besides sharing experiences an frustrations was a great opportunity for EVS organizations to connect in the light of building future cooperation.