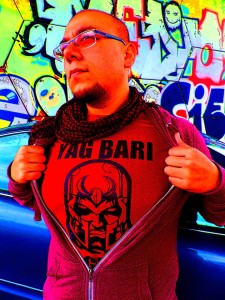 I, Vicente Rodriguez Fernandez (Alfafar,1988), AKA Magneto, am self-taught. Most of the knowledge that I have about "life" came from Comics, the Bible, Rock n' Roll lyrics, Philosophy books, family and my own experiences. For the last 4 years I have been involved in Roma activism as a participant and volunteer in many activities.
I've been on a never-ending tour over the world for the last years. I have visited Tel-Aviv, Jerusalem, Krakow, Bratislava, Roma, Spoleto, Berlin, Czarna Gora, Brussels, Hannover, Sofia, Strasbourg, Tirana, Simferopol, Zagreb, Larnaka, and many other cities and countries as part of my non-formal education process. I have collaborated with different organizations but overall and specially with TernYpe-International Roma Youth Network.
I have published several articles and regularly participate in digital media as blogger. I am also a contemporary artist-creator and a free thinker who has collaborated several times with other Roma artists in creative initiatives, and a consummate Rock n' Roll singer and musician.
I love adventure, and I'd like to see my life as a narrative, as a history. So many times my decision making process is not guided by a need of economical or emotional stability, but by a pure impulse to turn my reality upside down!
Maybe that's why Bekah Ward, a kind of a crazy extraordinary human being from Montreal, and I decided to buy a car and travel all over the world with India as our final destination, with only the support of the prayers of the Pentecostal Roma Church and our Roma Muslim brothers!
So starting in the tip of Spain we drove more than 6 months, passing all of Europe and the Balkans and finally flying till India, we opened a blog that we will finish eventually, WWW.ALONGWAYTOJUSTICE.COM and we lived an incredible experience. After 4 years of travelling, I miss my family very much. But in the middle of the trip, this concept, this idea of justice became stronger, as we saw beautiful people, we witnessed a terrible situation, and when my old friend Jonathan Mack AKA Professor X, offered me to come to Hungary as volunteer I had no doubt it was the right choice to make.
I'm not a regular volunteer in a regular situation, the rising of the far-right and the tyranny of the Hungarian systematic chaos represent a serious menace to all of us, specially to the ones who as Roma or Jewish are always on the show, as the "evil ones."
I understand my time in Hungary and my duty as Roma young man and my time as volunteer in Phiren Amenca as the response to a reality that I cannot accept anymore, and I'm full of serenity, full of peace, knowing that I'm using my life and my time in the best way possible, in the pursuit of JUSTICE.