I was very excited because I could participate at the 3rd Diversity Festival of YEN that took place from 6th till 13th of August 2017 in the traditional capital of Kashubia, Gdańsk in Poland. Gdańsk has for centuries played a role as a multicultural city where people from all around Europe and followers of different religions could find shelter. The motto of this year's Diversity Festival is "Celebrating Pluralism" and to fight for a diverse and deeper tolerant European community. The seminar gave space to the participants to gain knowledge of cultural, educational, social and political realities of other minorities but also trained skills of expressing social criticism and intercultural dialogue. And what is this YEN? The YEN is Youth of European Nationalities YEN / JEV. This is the largest European network of youth organisations of European ethnic groups and languages and national minorities. This organisation was born in 1984. The main goals are to take care of the European minorities' and national minorities' rights, and make a net with other European organizations and work together to one more diverse and tolerant European society.

What could I learn in this event? As a future teacher I learned about the European ethnic groups, but this week I think I could learn much more about what it really means. I knew some information where they live or something like this basic data, but I didn't know any real details. And I had the opportunity to learn from other minorities which I never heard before for example: sorbians and romantsch. So I can say I learned so much and I was very glad for this opportunity, because I was always interested about the social, etnical systems and minorities in Europe and over beyond. And if I want to teach once about these topics I need to learn more, but not just from books, I need some real experiences. Like all other similar multicultural event this week also had one night when we could show each other our cultural food, drinks, dance etc.. and we could present our traditional dance and teach to the others. So the meaning of this night was to show and share and learn more about ethnic, national, language background with fun. Georgina and I showed one Hungarian dance, one participant from Ireland said "we have the same just we jump bigger" and when she showed us how they dance it in Ireland, yes I tought if i want I could find some similarity. And of course the cultural experience exchange happenned all day long for example when we spent the time together on the hotel pub every night and singing amoung others the Yellow Submarine and Katyusa.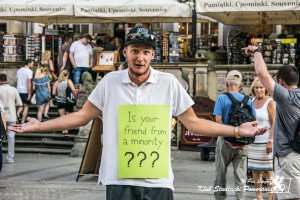 What did I do in the workshop? First of all participants needed to choose a workshop group (theatre, cartoon, story telling, youth activism). I chose the theatre group. The first day we got to know each other, then we tried some theatre methods. And slowly we started to think about the performance for the festival. The first step was to define our main topic that we want to show to the audience.
The first 2-3 days were hard for me because sometimes it wasn't easy to find a common point, and that was the most hard for me because our background wasn't the same, so first we needed to learn more about the others' background and thinking way and just after that we could work well together. But the next days the work was easier and easier and so we could start the real work about the theatre show. Our show had 3 acts. The first was about discrimination based on ethnicity during a job interview. The second was about a story that was told in 2 countries in two different ways. In the two countries they were teaching the story in different ways to the children. Then we asked the audience which was the true? Who can I trust?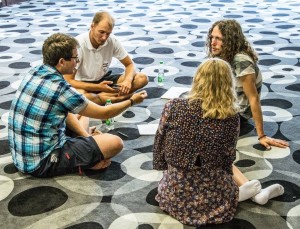 The third act was about hate speech. That was about one person who talked about his problems with Roma in Europe. Later some people just started to read some real comments from the internet and more and more people started to continue reading this hate speech from different languages and different topics, and after that all started to say "Europe for the white people" and we all just collapsed and quieted. We wanted to show the people this thing growing slowly but we can meet with this hate speech everywhere.
Together with the youth activism group we made a flashmob. One afternoon we went to the city center to the main square and presented it to the local people and the tourists. The flashmob was one song with dance, the basic song was the YMCA (1978) from the Village People, but we made new lyrics: "Grab a pen and sing MSPI (2x), we are everywhere and we want to take care of the European diversity" After the flashmobs (repeating 3x every ten minutes) we tried to speak to the local people about the European minorities and we had some paper table hanging on our necks with different questions: Do you know where the frisiens live? Do you know how many miniorities live in Poland? Do you now which minority's is this flag? etc… And we also wanted to collect signatures to the European Council to support better the European minorities' rights. This is now the most important job for the YEN to collect 1 million signatures. (You can sign the petition on this website: http://www.minority-safepack.eu/en/)
We worked and learned so much about the European minorities and nationalities, but of course we could spend some time together and discover the city by walking through the historical center. We had one day that we spent outside and we had opportunity to sailing on the Baltic See and after we visited one traditional kashubian village and one handworker pottery. On one other day's afternoon we visited the Baltic coast again to swim and enjoy the beach in Hel, where we presented our theatre show, a cartoon workshop and the "story telling" movies to the audience at the Festival of Hel.
The week was very powerful for me because I could learn so much about the European minorities and nationalities and of course I learned much about the theatre methods. I could learn some new words in different languages in Russian, Turkish, Frisien. Gdańsk was an amazing city and I was really grateful that I could participate at this festival so I want to thank to Phiren Amenca and the host organisations this event.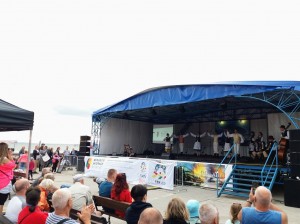 Written by Bálint Rigó