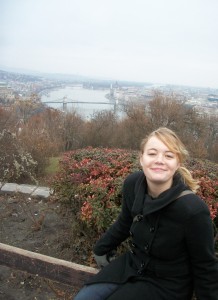 When I recently returned to placement after the Phiren Amenca seminar, everyone wanted an explanation for my week-long absence. I tried to answer that I had attended a seminar for volunteers working on different Roma projects around Europe, that we learned and reflected on our experiences and motivations. One person asked me pointblank, "Everyone from the West seems to like Gypsies; why do you like working with Gypsies?" I could only reply that I didn't have an answer, except for the same reasons that I like working with Hungarians or Ukrainians or Americans, or anyone else for that matter, only because people are so broken and so beautiful.
How did I get here? Last year I was due to graduate from seminary in the United States. I watched my friends searching anxiously for jobs, and I knew that I wanted to do something different. I had a bug. I wanted to take off to someplace totally unknown, to see what I could learn, and to test what I was made of. I didn't know much about Roma before I began this journey, but when I was presented with the possibility of a placement with Roma in Europe, it sounded exciting and challenging. That's the short version of how I found my way to the Transcarpathian region of Ukraine. At this placement my tasks include diaconal and pastoral work in a local Hungarian Reformed church community, and working with the younger students of a school for Roma children.
While there have certainly been disappointments in my first months as a volunteer, there have also been plenty of miracles: when a 10-year-old boy searched the classroom for a picture of a camel to explain the joke he was trying to tell me, or laughing with another volunteer at the hideously decorated Christmas tree in the center of town, or that sometimes just opening the door of one the grandmothers is enough kindness to bring tears to her eyes.
Rachel Daley volunteered in Berehove (Beregszász), Ukraine. You can follow her story on her blog at rdaley.blogspot.com.