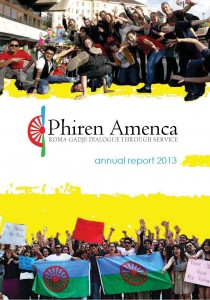 Phiren Amenca International Network published its Annual Report for the year 2013.
Although Phiren Amenca can look back on more than 10 years of experience with the name Roma Gadje Dialogue Through Service, our network is still young and in a dynamic process based on a new strategy and membership basis since 2012. In the last two years we have strengthened the involvement of Roma organizations in voluntary service, established new placements, and built new partnerships. The partnerships between member organizations are growing and are characterized by trust, reliability, and a strong commitment to our common mission. All our member organizations are engaged in long-term voluntary service programs, while new short-term programs have been established to increase the accessibility and equal opportunities for young Roma.
The organizational capacity of the members is developing and we are proud that some of our members are probably the first Roma self-organizations that became Coordinating Organizations of the Youth in Action/Erasmus+ program in Europe. New organizations are joining our activities and have expressed interest in joining the network. The network exchanged over 40 Roma and non-Roma long-term volunteers in 2013 and offers a number of non-formal education programs. These developments and the experiences of our volunteers show the uniqueness of the Phiren Amenca network with its mission to challenge stereotypes and racism through voluntary service and that it is necessary and possible to volunteer for social change.