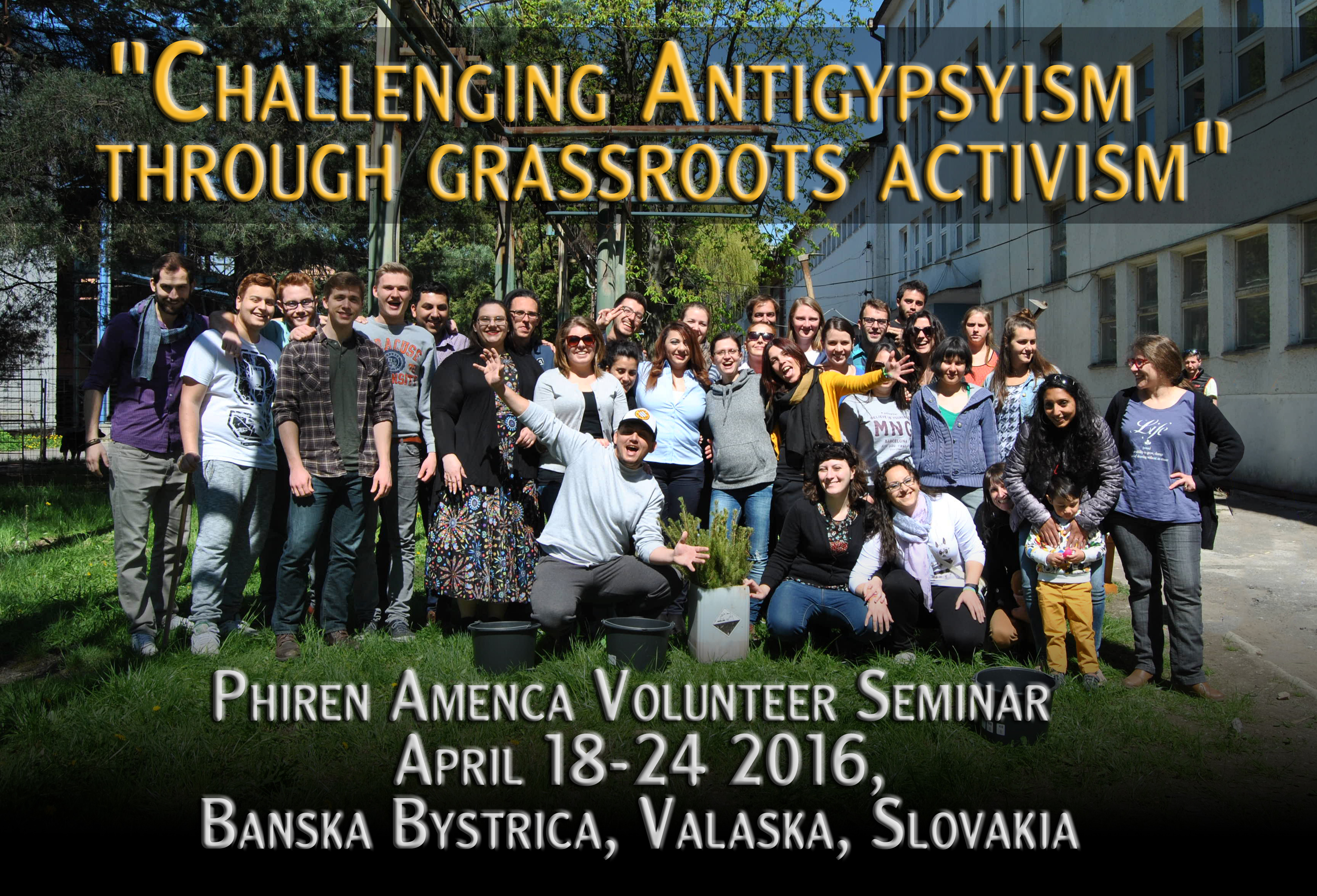 "Challenging Antigypsyism through grassroots activism" – Phiren Amenca volunteer seminar ran from April 18-24, 2016 in Valaská and Banska Bystrica, Slovakia. 40 Roma and non-Roma volunteers and youth leaders came together to learn more about the situation of Roma in Slovakia, about antigypsysism and its manifestations in Europe and to learn about history of Roma during the World War II, especially in Slovakia.
The seminar aims were to raise the awareness and activism to challenge antigypsyism, by creating local, national and European campaigns around it, especially in the placements of our volunteers.
During the seminar participants had a chance to discover the "Story of Valaska", how the community house of Association of Young Roma was established and built, to hear personal testimonies from local people, to learn about community organising with Chuck Hirt from Not in our town! and to get a better picture about far right movements in Banska Bystrica and in Slovakia with Rado Sloboda, through his "Watchdog" initiative. Moreover, during the week long seminar, participants did not just continue their learning process about antigypsyism in Europe but also developed their own actions in their countries.
The last days were dedicated to learn about Slovak History, about the Slovak National Uprising during the World War II. On the sixth day participants organised a commemoration to remember of the victims of the uprising, as more than 900 people died in Nemecká, Jews, Roma and Partisans.
We also had a great chance to leave something more for the next generations, after a hard work each participants plant their trees in a garden of a community center in Valaská, to remind everyone, we were the first group there.
The seminar was organised by our member organisation Association of Young Roma and by its partners from Hungary (RGDTS Nonprofit Kft.), Romania (Nevo Parudimos, Gipsy Eye), Belgium (Phiren Amenca International Network, ERGO Network), Spain (FAGIC) and from Austria(Romano Centro).