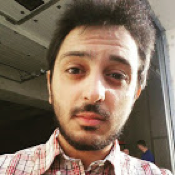 "Don't be afraid of changes!"
This is what I am telling myself all the time.
Hello everyone!
My name is Marian. I am 21 years old (soon to be 22) and I started my 10 months European Voluntary Service at the international organization Phiren Amenca a week ago. They are specialised in both technical and practical activities: on one side helping Roma people on an European level and, on the other side, arranging different workshops, taking part in various conferences, activities – all in the best benefit of Roma people, to support the fight against anti-racism and antigypsyism existent in all countries.
Budapest is a very large and beautiful city that got me overwhelmed; in the evening I arrived here, I was a bit frightened about the fact that I don't know anyone, I don't know the local language but then again – I felt excited! I will have the chance to learn Hungarian, get to know different people with different backgrounds, help as much as I can Phiren Amenca accomplish their objectives and make a difference!
In 2013 I was a volunteer for one of the Roma organizations in my town: "Partida Romilor Pro-Europa".  During that summer I took part in facilitating free medical check-ups for the Roma communities in three different cities: Rosiorii de Vede, Turnu Magurele & Zimnicea. The doctors who were hired from "Nicomed" came with us in each city and checked each and every individual who showed up. Afterwards, we provided food for everyone and made sure they had a place to stay in order to eat the food.
In 2013, with the help of "Partida Romilor Pro-Europa", I attended a 1-week workshop in Heppenheim, Germany called: "Gender Roles – One Europe, many Realities". In this week I  debated the usual stereotypes of being male or female, along with 3 other persons from Romania, 4 persons from Bulgaria and 2 locals from Germany – a multicultural experience I will never forget!
Bottom line is that I'll do my best to help Phiren Amenca in every way that I can, learn about Hungary and its culture, getting closer and closer to the best version of me.