<<lejjebb görgetve magyarul is megtalálod a felhívást>>

EVS Opportunity for young Roma and non-Roma from Hungary with ProAtlantico in Oeiras, Portugal! 
Volunteer for 12 months in 2018-2019 (starting October 1, 2018) with ProAtlantico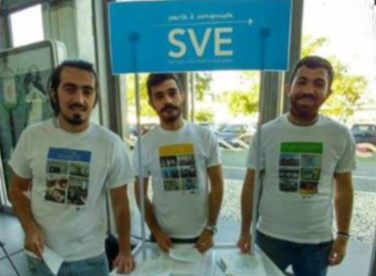 ProAtlantico- Associação Juvenil is opening a call for applications for two young Roma and non-Roma from Hungary between the age of 18 and 30 to participate in a European Voluntary Service (EU Erasmus+ program) project in Oeiras, Portugal. The project offers diverse learning opportunities, ranging from office-related administrative and logistic tasks, to free-time activities and learning-assistance of youth, to elderly care.
Volunteer profiles: the volunteer is expected to be open-minded and creative, proactive, interested in handicraft, willing to take on new challenges. A high motivation to work with children and young people is expected and the volunteer should be tolerant to work with people with fewer opportunities and different backgrounds.
The hosting organization provides accommodation, health insurance, covers local transportation and issues a monthly allowance for food and extra costs.
The volunteers will attend the seminar organized by the Portugese National Agency and an international seminar organized by Phiren Amenca Network.
The call for applications is open for young Roma from Hungary between 18 and 30 years. For further questions do not hesitate to contact us.
Send your motivation letter, CV, and the attached application form Phiren Amenca Volunteer Application Form 2013-2014 to Anna Daróczi at [email protected] with the subject line: "EVS application: ProAtlantico".
You can find further information about this voluntary service project in the info pack.  ProjectDescriptionProAtlantico
DEADLINE: Until filled
ProAtlântico – Associação Juvenil is a non-profit youth organization, founded in 2001 in Oeiras (Portugal) and carries out projects with children, young people, elderly people, and disabled people. With its 13000 members, ProAtlântico gives special attention to people in need and to those with fewer opportunities, aiming to give people the chance to establish contact with other cultures, in order to help them to find ways to deal with their own problems and to break the existing prejudices.
EVS (Európai Önkéntes Szolgálat) lehetőség magyarországi roma és nem roma fiatalok számára Portugáliában a ProAtlantico ifjúsági Egyesületnél!
Legyél önkéntes 12 hónapig, 2018 október 1-től Portugáliában!
A ProAtlantico 18 és 30 év közötti roma fiatalok jelentkezését várja Magyarországról EVS (EU Erasmus+ progam) önkéntes szolgálatra a portugál Oeirasban. A project vá,ltozatos tanulási lehetőségeket kínál kezdve az irodai adminisztráció és logisztikai feleatoknál, a fiatalok szabadidős és tanulási programjaiban való segédkezésen át, az idősellátássig.
Az ideális önkéntes nyitott és kreatív, kezdeményező, érdekli a kézművesség, szívesen vállalkozik új kihívásokra. Fontos, hogy motivált legyen a gyerekekkel és fiatalokkal való foglalkozásra, és szívesen dolgozzon hátrányos helyzetű és különböző háttérrel renelkező emberekkel.
A fogadó szervezet szállást, egészségbiztosítást és a helyi közlekedés finanszírozása mellett havi zsebpénzt biztosít.
Az önkéntes részt vesz egy, a portugál Nemzeti Iroda által szervezett képzés mellett egy Phiren Amenca nemzetközi szemináriumon is.
A felhívásra 18 és 30 év közötti romák jelentkezését várjuk Magyarországról. Ha további kérdésed van, vedd fel velünk a kapcsolatot!
A jelentkezéshez küldd el motivációs leveled, és a csatolt jelentkezési lapot Phiren Amenca Volunteer Application Form 2013-2014 Daróczi Annának az [email protected] címre. A levél tárgyába ezt írd: "EVS jelentkezés: ProAtlantico".
A csatolt angol nyelvű pdf tájékoztatóban  további információt találsz. ProjectDescriptionProAtlantico
Határidő: A pozíciók betöltéséig
 Kérdéseiddel keresd Daróczi Annát az [email protected] címen, vagy a +36209798349-es számon.
A ProAtlantico – Ifjúsági Egyesület egy 2001.ben, Oeirasban alapított nonprofit szervezet, mely gyerekekkel, fiatalokkal, idősekkel és fogyatékossággal élőkkel foglalkozik. 1300 tagja különös figyelmet fordít azokra, akik kevesebb lehetőséggel rendelkeznek és arra törekszik, hogy kapcsolatot építsen köztük és különböző kultúrák között, hogy segítse őket a problémáik megolásában és a sztereotíőiák lebontásában.