Oct 17 2013 | Niccoleta Stara, Federica Scrimiei, Sarah Haupenthal and Sara Irin | RomaReact.org

[hr]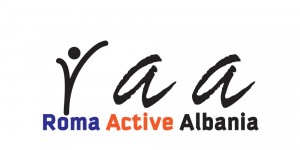 Roma Active Albania (RAA), our hosting organization for the European voluntary service, is a NGO founded in 2006 in Tirana. RAA deals with the topics of mobilization and coordination of Roma people in the fight against discrimination and for the protection of their social and political rights and is active in advocating Roma issues on a local, regional, national and international level. From the beginning of our voluntary service we were involved in three important projects.
The first project we got in touch with is the LYRA project (Leaders – Young Roma in Action) which aims to empower and build capacity for young Roma and non-Roma in order to take an active role in addressing crucial problems in their communities. The project involves 10 communities from three different countries, respectively: Albania (Korca, Fieri e Pogradeci, Bosnia-Herzegovina (Sarajevo, Banja Luka, Tuzla, Bijeljina e Mostar) and Kosovo (Prizren e Gjakova). It is implemented by the local branches of the US NGO Save the Children in collaboration with others association including RAA.
From 18th to 21st of June 2013 at the hotel Chateau-Linza in Linza (Tirana) was held the kick-off training. Participants of the training were 60 Roma and non-Roma youngsters at the age of 18 to 26. The goal was to create eight working groups who during twenty months will conduct an "action research" to learn the methods of identifying and resolving social problems in cooperation with different communal actors.
Being involved in this project helps us to understand the reality of young Roma in Albania and the problems they face in everyday life. We are impressed by the strong motivation they got from the exchange of work and life experience among each other and the feeling of equality and mutual recognition during the training.
The second project is called "Empowerment campaign for Roma Women" and the slogan is "Our Place, Our Space, Our Case". This campaign is implemented by ERGO under the Roma Women Empowerment Project programme. The goal is to raise the capacity of Roma women for self-organization and political participation to become equal citizens, while keeping their specific identity. Roma women are empowered to take control of their own lives by becoming visible agents of change within their communities and raising their voices to influence policies and programmes affecting them in their everyday life.
The meeting with these strong women of all ages was a great experience for us. At the same time it was striking for us to see them struggling with fundamental things like the supply of drinking water which we are used to take for granted.
The third project took us for two weeks (and after 32 hours of trip by bus) to Poland. It consisted of different activities dedicated to the commemoration of the Roma Genocide convicted by the Nazis during the Holocaust. The first week we spent in a small town (Zywiec) working on the topic in creative workshops like theatre, arts and graffiti in Poland together with other participants from Macedonia, Poland, and Germany and of course Albania. Our creative results were shown in Krakow during the main event, the big conference "Dik I na bistar" (that in Roma language means Look and don't forget) with about 400 Roma and non-Roma participants.
The days in Poland were very intense for us. We learned a lot about the struggles of Roma during the history and until today but also about the Roma culture in everyday life. We enjoyed spending our time with young Roma people. The four days in Krakow were stressful because of the big number of participants. We took part in different workshops for instance about questions of Roma identity. The activities were closed by a commemoration ceremony in Auschwitz. That was a really hard situation for all of us but on the other hand it was a good feeling to go there in a big group together with Roma and non-Roma.
The first months in Tirana gave us the possibility to meet a lot of people and make new friends and to catch a first insight in the issues Roma people have to face in Albania and all Europe.
Now we are looking forward to new challenges and to the improvement of our skills to take a more responsible part as members of the RAA team.
[hr]