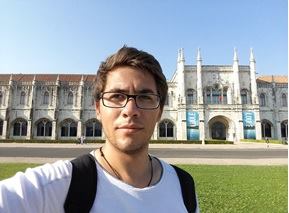 Hello everybody! I'm Bálint and I am 23-years-old. I am from a little town in the middle of Hungary where I spent my life, until I was 18-years-old and I started university in Pécs. I studied biology and geography (dual degree) to become a teacher.
I have always liked geography because I am very interested in learning about and experiencing other countries and cultures. Now after 4 years in my university, I have published several papers about how people in different countries express their identity on various social levels. I like traveling and learning and sharing who I am, so this EVS project is perfect for me. My hosting organisation is ProAtlântico – Associação Juvenil, and they are in Oeiras, Portugal. I chose this project because I had always dreamed of visiting Portugal, and when I read the project description,I knew it was perfect for me. My hosting organisation's profile is very wide, so I have many opportunities to learn and share in different contexts. Recently, I have been working mostly with children and older people.
This EVS project gave me the opportunity to learn more about other countries and their diverse cultures. This experience has assured me that I want to continue to work with diverse groups. In biology, diversity is one of the most important key words, and I believe this reflects how important diversity is in our world. I am learning not to be afraid of change and to become a change-maker!