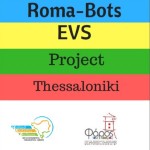 ( Magyar nyelvű információt lejjebb találsz! )
Deadline: until filled
Where: Thessaloniki 
The Project:  Some of the most important activities are two competitions for educational robotics FIRST LEGO League (FLL®) and FIRST LEGO League  Jr. (FLL Jr. ®) which are organized throughout the year in several cities around Greece.
Throughout the year eduACT organizes more than 30 workshops and trainings in order to engage young people with educational robotics. Volunteers will take part in the educational activities, learn the process and be the helpers of the trainers and facilitators. Volunteers will also support the organization in order to promote and disseminate the activities in order to raise awareness regarding educational robotics as an innovative tool to engage young people and provide them an alternative path of education. Volunteers can also take part and support the organization in our summer camp "Sea Sun + Fun Camp" which is an innovative initiative to engage young people with education robotics.
About the Hosting Organizations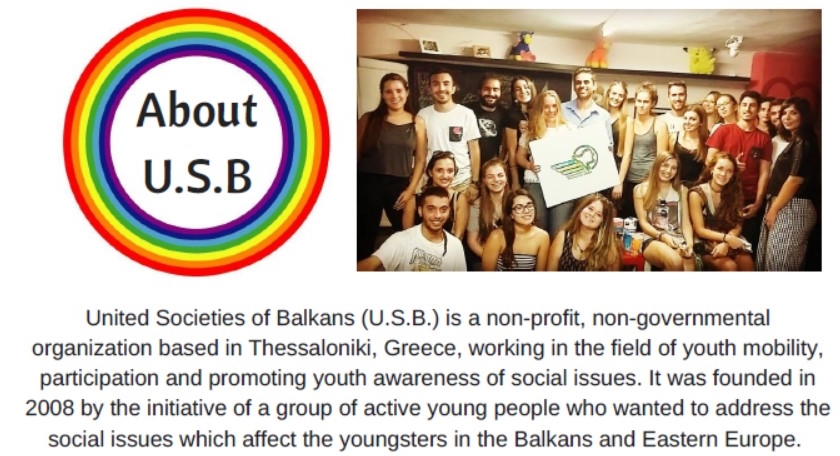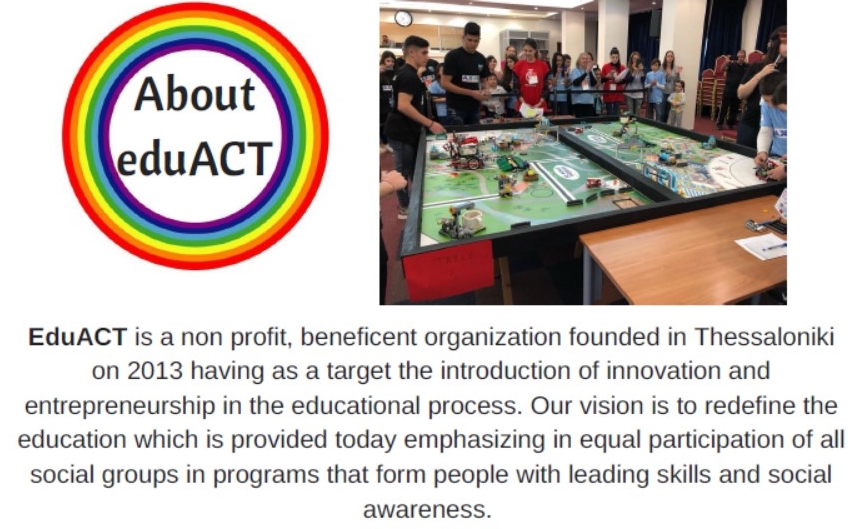 About the conditions of hosting…
The project is open to any young person between 18-30 years old who are familiar being around with young kids.
We need people who have skills in 1 ore more of the following 3 main areas:
Graphic Desing – to create advertising flyers, campaign logos, posters, invitations and t-shirt stamps
IT Skills  –  to maintain our website
Photography/videography – to disseminate our projects
Volunteers must preferably speak basic English by the start of the voluntary service term. The program covers accommodation, board, health insurance, transportation card and monthly pocket money. As an official recognition of the voluntary service, volunteers will receive a Youthpass.
Application
Send your motivation letter and your CV  to  [email protected], For further questions do not hesitate to contact us.
 Legyél Önkéntes Görögországban!
 Jelentkezési határidő: A pozíciók betöltéséig
 Ország/város: Görögország, Thessaloniki
 A Projektről:
A legfontosabb tevékenységek közé tartoznak az FIRST LEGO League (FLL®) és a FIRST LEGO League Jr. (FLL Jr. ®) oktatási robotika versenyei, amelyek egész évben Görögországban több városban szerveződnek.
Az önkénteseket részt vehetnek az oktatási tevékenységekben, tanulnak a folyamatról és segítséget nyújtanak az oktatóknak és facilitátoroknak. Az önkéntesek támogatják a szervezetet tevékenységeinek előmozdítását és terjesztését annak érdekében, hogy az oktatási robotika tudatosságának növelése innovatív eszközként szolgáljon a fiatalok bevonására ezzel egy alternatív oktatás formát nyújtva számukra. Az önkéntesek részt     vehetnek és támogathatják a szervezetet a "Sea Sun + Fun Camp" nyári táborunkban is, amely innovatív kezdeményezés a fiatalok oktatási robotikába való bevonására. Az év folyamán az eduACT évente több mint 30 workshopot és tréninget szervez, mely motiválja a fiatalok részvételét az oktatási robotikában.
Fogadó szervezetek:
EduAct szervezet, mely újradefiniálja az eddig nyújtott oktatást, hangsúlyozva a társadalmi csoportok egyenlő részvételét olyan programokban, amelyek vezető képességekkel és társadalmi tudatos embereket formálnak. Weboldal: http://eduact.org/en/home-page/  Email: [email protected]
A United Balkans (Egyesült Balkán) Nonprofit Szövetség Thessalonikiben, Görögországban működő szervezet, amely az ifjúsági mobilitás területén a fiatalok társadalmi kérdésekbe való bevonásával és tudatosságának elősegítésével tevékenykedik. Email: [email protected]   Facebook: facebook.com/usbngo/
Időtartam: 10 hónap
Kezdő és végdátum: 2018 szeptember/november – 2019 június/augusztus
Tevékenységek:
Olyan embereket keresünk, akik rendelkeznek készségekkel a következő három terület egyikén:
• Grafika- szórólapok, kampány logók, poszterek, meghívók és póló bélyegek készítése
• IT készségek – weboldalunk fenntartása
• Fényképészet / videográfia – projektek disszeminálása, terjesztése
 Követelmények:
magyarországi lakcím vagy tartózkodási hely
18 és 30 év közötti életkor
alap angol nyelvtudás (kivételekkel)
 Biztosított feltételek
szállás
étkezés
egészség- és balesetbiztosítás
zsebpénz
Jelentkezés:motivációs levél és önéletrajz elküldésével : [email protected].