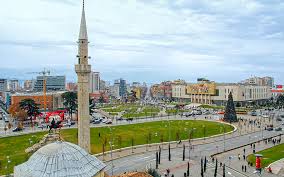 (Magyar infókat lejjebb találsz)
DEADLINE: Until filled
Number of volunteers: 3
Applicant country: 1 Italian, 2 Hungarian
Where: Tirana
Duration: 10 months lasting project (October/November 2018 – July/September 2019)
PROJECT:
The volunteers engage weekly around 30-35 hours in the working fields intercultural youth work, empowerment and mobilization of Roma youth
Assist the Roma youth network in their activities (street actions, conferences, public debates, creative actions)
Supporting trainings, seminars and grassroots activities, conducting researches and case studies
Promoting EVS in local communities, writing articles for websites and publicity
The volunteers will be supported by a mentor and a personal supervisor
The program encourages volunteers to express and to realize their own ideas and initiatives during the service
PARTICIPANTS PROFILE
Young Roma and non Roma people between 18 and 30 years who are residents of Italy and Hungary
Young people who have the will to work in a Roma environment/community
Challenge stereotypes, antigypsyism and racism,
Volunteers must have basic English or Albanian language skills
No prerequisite qualifications, nor any particular academic/educational level
The program is fully covered, providing room, board, health insurance, Albanian language course, an opportunity to learn Romani language, and monthly pocket money.
Volunteers will be provided with 2 Erasmus+ seminars during their service, and 2 international Phiren Amenca seminars.
APPLICATION
Send your motivation letter, CV to [email protected]

THE HOSTING ORGANIZATION
Roma Active Albania
Roma Active Albania (RAA) is an experienced organization aiming at the mobilization and empowerment of Roma people. RAA is actively lobbying and advocating Roma issues at local, national and international level. RAA is specialized in addressing Roma issues, conducting analysis and developing new methods and strategies to tackle the exclusion of Roma people in Albania and Europe.
Legyél Önkéntes Albániában!
Jelentkezési határidő: A pozíciók betöltéséig
 Ország/város: Albánia, Tirana
Fogadó szervezet: Roma Active Albania
A Roma Aktív Albánia aktívan lobbizik és támogatja a roma kérdéseket helyi, nemzeti és nemzetközi szinten. A RAA a roma kérdések kezelésében, elemzésben és új módszerek és stratégiák kidolgozására szakosodott, ezeken a területeken tevékenykeik illetve a romák Albániában és Európában való kizárásának kezelésében.
Időtartam: 10 hónap
Kezdő és végdátum: 2018 szeptember/November – 2019 június/Szeptember
Tevékenységek:
Az önkéntesek hetente 30-35 órát foglalkoznak az interkulturális ifjúsági munka és roma fiatalok mobilizálása munkaterületeken
A roma ifjúsági hálózat segítése a tevékenységekben (utcai akciók, konferenciák, nyilvános viták, kreatív akciók)
Szemináriumok és helyi tevékenységek támogatása, kutatások és esettanulmányok készítése
Az EVS előmozdítása a helyi közösségekben, cikkek írása weboldalon
Az önkénteseket egy mentor és egy személyes felügyelő támogatja
Kreatív munka: Az önkénteseknek saját innovatív és kreatív ötleteiket, projektjeiket is kitalálhatnak a roma közösség bevonásár
Elvárások
magyarországi lakcím vagy tartózkodási hely
18 és 30 év közötti életkor
alap angol nyelvtudás (kivételekkel)
Biztosított feltételek
szállás
étkezés
egészség- és balesetbiztosítás
zsebpénz
Jelentkezés: motivációs levél és önéletrajz elküldésével: [email protected].