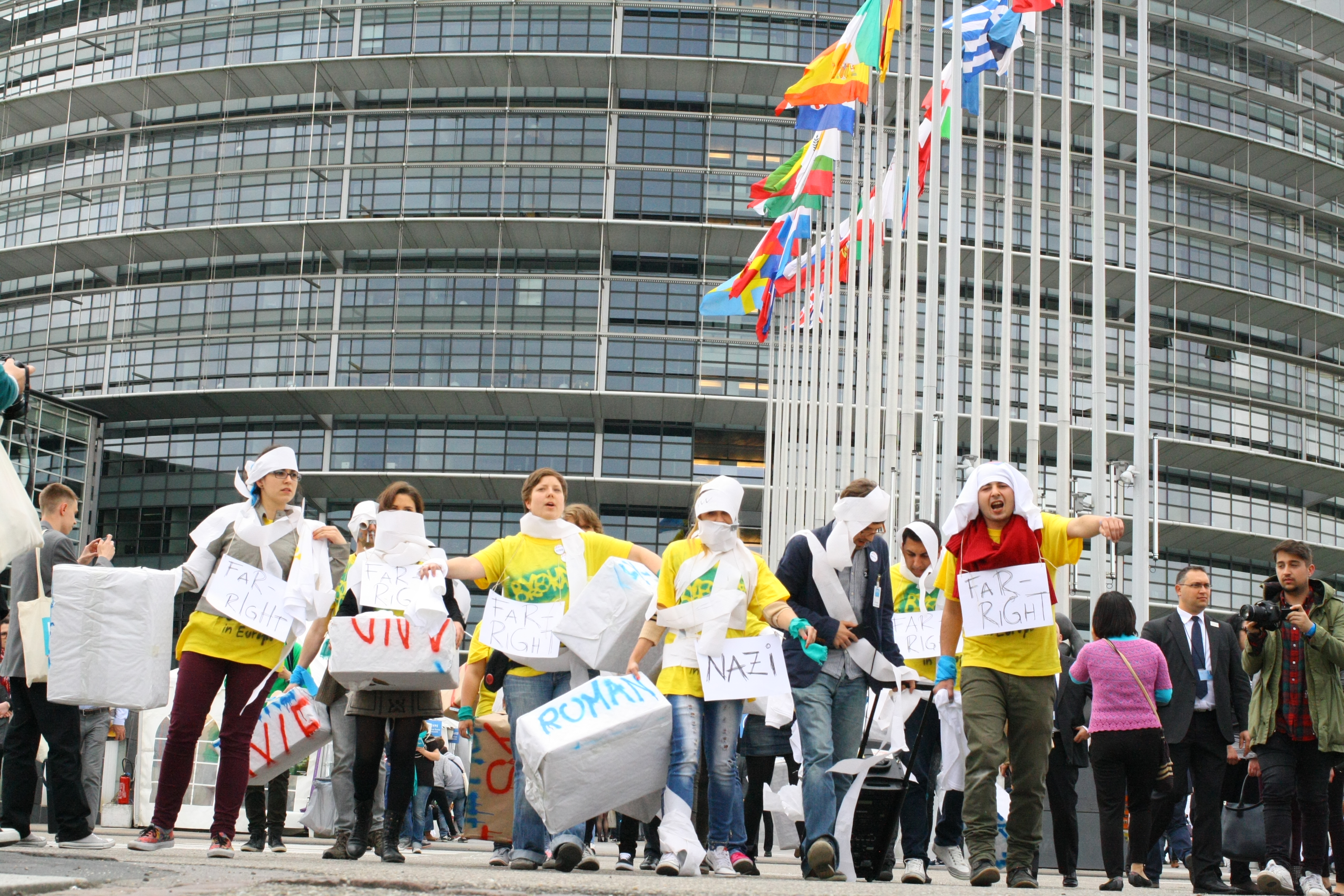 RAISE YOUR VOICE FOR ROMA – INTERNATIONAL SEMINAR
AND
EUROPEAN YOUTH EVENT 2016 (#EYE2016)
OUTLINE & CALL FOR PARTICIPATION
ABOUT PHIREN AMENCA
Phiren Amenca is a network of Roma and non-Roma volunteers and voluntary service organizations creating opportunities for non-formal education, dialogue and engagement, in order to challenge stereotypes and racism. More information under: www.phirenamenca.eu
ABOUT EUJS
The European Union of Jewish Students (EUJS) is a pluralistic, inclusive and non-partisan umbrella organization. We supports Jewish student unions throughout Europe and represent its members in international institutions and organizations.
http://www.eujs.org/
BACKGROUND OF THE ACTIVITY
In a time of growing antigypsyism, anti-Semitism, racism, hate speech online and right-wing extremism, it is important to strengthen the voluntary commitment and solidarity of all citizens to defend the basic values and human rights of our societies. Antigypsyism, being among the strongest structures of exclusion in Europe, we decided to make it a priority to challenge it in 2016 and dedicate a campaign with several elements to this aim. In order to challenge antigypsyism successfully, there is a need for alliances and solidarity between Roma and non-Roma (of dominant society as well as other minority groups such as of Jewish and Armenian background) and engagement, which goes beyond social boundaries.
Phiren Amenca has already participated in the European Youth Event 2014. As it is a great space for raising the voices of young people, our aim is to bring more minority youth there in the second edition in May 2016.
Article and links to other information about the EYE2014:
https://phirenamenca.eu/pa-european-youth-event-2014/
ABOUT THE EUROPEAN YOUTH EVENT 2016
More than 7000 young people are expected to gather there for two days to exchange ideas with European decision makers and to come up with innovative solutions for the future. The European Youth Event (EYE) will take place in the European Parliament seat in Strasbourg from 20-21 May 2016. It is a unique opportunity for thousands of young Europeans to make their voices heard.
During the event, they will exchange ideas and perspectives on youth-related issues, develop innovative solutions to crucial questions for the future and meet with European decision-makers and speakers with a wide range of professional experience. The YoFest, coordinated by the European Youth Forum, creates a space for youth organizations to shape parts of the program and bring their issues to participants from all over Europe. An EYE report compiling the participants' ideas will be distributed to all MEPs in September 2016, and followed by a series of EYE hearings that will be organised in relevant parliamentary committees in autumn 2016. For more information about the event check out website: www.eye2016.eu.
ABOUT THE ACTIVITY
In this activity, we will deepen our understanding of antigypsyism by bringing together local and international perspectives, and work on creative campaigning, in order to ensure the youth's preparation for creative actions both on a content as well as on a methodological level. A special focus will be on the connection of local offline and international online activities. This training also involves experienced youth from other minority groups in order to challenge antigypsyism as a larger social youth alliance.
We also to bring the voices and issues of minority youth to a wider public in the European Youth Event. We will show the potential of alliances and mutual with the following activities:
Workshop "So keres, Europa?!" about the participation and exclusion of young Roma
Workshop "A Europe of Diasporas" about the position, challenges, interests and potential of diasporas in Europe to strengthen peace, solidarity and equality
Panel discussion "Volunteering for change" about the potential of voluntary service as a tool for the inclusion of young Roma and facilitating their transition to autonomy and employment
A flash mob challenging discrimination
A photo action against forced evictions
Street interviews with participants about remembrance
Smaller actions and activities in the YoVillage
AIMS AND OBJECTIVES
– Making participants familiar with methods of creative campaigning
– Learn about dominant and resistant narratives of Roma history
– Making participants familiar with the concept and the mechanisms of antigypsyism and the situation of Roma in different European countries
– Facilitating the creating of a minority/majority youth alliance going beyond social boundaries and including youth of Roma, Jewish, Armenian and dominant society backgrounds
– Reflect on resistance and strategies of integration, inclusion and self-determination
– Finalizing an action repertoire for the following events
– Preparing concrete actions for an active participation in the European Youth Event 2016 and local campaigns
– Capacity-building of young Roma and non-Roma, beginning to build an international pool of youth trainers/facilitators (on antigypsyism and HRE)
PROFILE OF THE PARTICIPANTS
The project targets Roma and non-Roma youth leaders, workers, multipliers, trainers, volunteers and former long-term volunteers of the Phiren Amenca network, and its member and partner organizations, especially also from other minority groups, such as Jewish and Armenian diaspora. We aim to constitute a group with diverse experiences, in particular multipliers who work on local, national or international level on issues of empowerment, participation, mobilization and self-organization, as well as volunteers and former volunteers that engaged in local communities for the dialogue between Roma and non-Roma. We encourage especially the participation of young people who are interested in engaging on a long-term basis in local actions afterwards.
Working languages: English
DATES OF THE ACTIVITY
For the whole activity the arrival and departure dates are as following:
Arrival: May 17, 2016 (Tuesday)
Departure: May 23, 2016 (Monday)
For a smaller group it is also possible just to participate in the European Youth Event. The arrival and departure dates are as following:
Arrival: May 19, 2016 (Thursday)
Departure: May 22, 2016 (Sunday)
Participants should organise their travel (arrival and departure) for these dates. Earlier arrivals and late departures will be exceptions after discussion with the organisers.
PLACE
Strasbourg
PARTICIPATION FEE
The participation fee for this event is EUR 50. If you have any problems covering this fee, please contact the organizers. We can offer a certain amount off fee waivers.
REIMBURSEMENT OF TRAVEL COSTS
The reimbursements of travel expenses (based on economical prices, Apex, student price, special price) and visa will be by bank transfer after the activity. Participants should bring with them original invoices to prove the costs of travel (ticket and visa) as well the tickets.
APPLICATION AND SELECTION PROCEDURE
To apply for this study session, please complete this online form:
https://docs.google.com/forms/d/1X9NoML_KESY6ty1vpg5-pLnEz3HHDuR7xmD2RPb46fY/viewform
The deadline for receiving applications is set for January 27, 2015 (Wednesday), midnight Central European Time. Applications received after the deadline will not be reviewed.
Selection of participants will be according to the profile specified above, but also ensuring geographical and gender balance (as far as possible) in the overall group composition.
We will inform participants about their selection by January 30.
ANY QUESTIONS OR CONCERNS?
Write to the team members:
Astrid Oelpenich Benny Fischer
e-mail: [email protected] e-mail: [email protected]
mobile: +49-1577-1952242 mobile: +32 472 21 76 29
Phiren Amenca European Union of Jewish Students (EUJS)
Krúdy utca 2. Fsz.7. Boite Postale 19
1088 Budapest, Hungary 1050 Ixelles Porte de Namur
E-mail: [email protected] Brussels, Belgium