In Budapest from the 2nd of September to 6th September 2020, this year's Roma Youth Advocacy training took place at the CEU (Central European University). Due to the extraordinary circumstances of this year during COVID-19, the Phiren Amenca team had to adapt, allowing for both in-person and online participation from advocates across Europe in terms of facilitators, speakers, and participants themselves.
The purpose of this event was to engage with Roma Youth advocacy aims and methods, to further break down advocacy and educate on the tools needed to further campaigns on an institutional level. This included asking participants to pinpoint specifics surrounding their individual work, reflecting on successes and barriers during this process of pursuing Human Rights. The participants shared their methods of advocacy in groups and also about what they feel passionate about in their line of work and the targeted groups within this scope for initiating change.
Further education was applied regarding the inner mechanisms of EU (European Union) policy-making by Phiren Amenca, supplying knowledge around the different institutions that make up the European Union and their individual powers in soliciting policy changes. This further included important information about the powers of the states within the context of EU powers, and sanctions that can be applied in response to Human Rights violations. Aims and outcomes from this session included the creation of recommendations to the EU Commission surrounding the needs of Roma Youth.
In order to gain a solid understanding about the needs and challenges of Roma youth in the EU, Dr. Simona Toroctoi presented her research to help substantiate recommendations and wider understanding regarding the situation of Roma Youth and to highlight gaps in formal research into this topic. Simona's research concluded that barriers for Roma Youth included lack of space for Roma Youth in mainstream structures, a lack of trust between Roma Youth and institutions, negative attitudes towards young people in general, insufficient resources, and the minimal power given to young people to initiate change. The participants got an insight to better understand the National Roma Integration Strategies and the working mechanisms and roles of the Civil Monitor thanks to the presentation of Georgeta Munteanu.
To prepare participants for creating recommendations to the EU Commission, the group was split between online and in-person participants to reflect on subject areas around Roma Youth and intersectionality. This was facilitated by members of the Phiren Amenca Team and Boglarka Fedorko. To ensure equal participation, topics surrounding intersectionality were discussed to establish the differing experiences of Roma Youth surrounding multiple-discrimination. Participants discussed within pairs and the wider group regarding their experiences of intersectionality in the context of Roma Rights, and developed recommendations to the EU Commission based on the dialogue. This was the same for the online group facilitated by Atanas Stoyanov Ivanov who developed recommendations based on Roma Youth needs.
The recommendations created by both groups were presented amongst all participants, and a vote was made by in-person participants about which recommendations were going to be selected to pursue further in recordings for the EU Commission. These included Roma Youth Participation, Roma Youth Competences, Fighting Racism and Antigypsyism, and Monitoring. In-person participants then selected the area they felt most passionate about to develop focused recommendations on that subject to then present. This included time with facilitators to work on the wording of recommendations within groups, and present them to the rest of the group to develop and edit. Due to time restrictions, filming had to take place the following day.
Due to time restrictions, our proposed session on 'National Roma Integration Strategies' has been moved to a post-study session online the following week, to give participants advice regarding advocacy practice in the context of National Participation within EU frameworks of Human Rights.
A workshop was further held by Research Officer Marko Pecak from REF (Roma Youth Foundation) on Advocacy Plan Elements and Strategy. This included a presentation on how to strategize action for the purpose of engaging with European Union nations on an institutional level. This included slides on establishing a purpose and goals, building strong evidence, and a detailed account on defining particular issues that need to be addressed. Participants were asked to consider the different Human Rights issues with the help of a specific case study, and to pinpoint and develop specific demands on national and on EU level. This workshop had the purpose of being specific and organized when addressing disputes on a European Level, giving participants a plan on being able to implement change.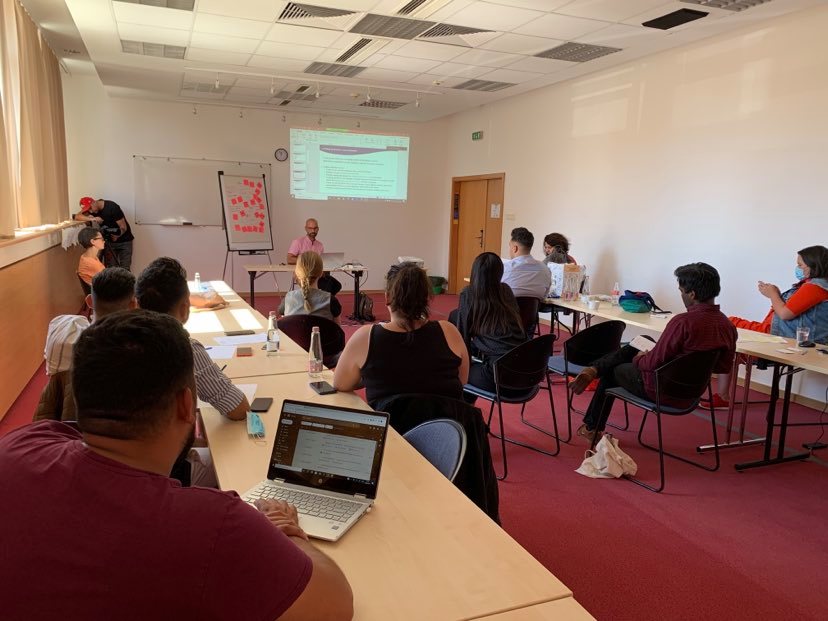 Further changes were also made to the program whereby the National Dimension segment being removed due to a lack of in-person participants to facilitate dialogue surrounding national efforts, strategies, and difficulties regarding Romani advocacy from a variety of nation states. This was not due to a lack of reach on our part of the diversity of participants, but due to the wider circumstances enacted by the Hungarian Government on their COVID-19 border policy. We were already limited on our participant pool due to the restrictions of "red, yellow, and green" states, only being able to accept 'green' country participants. This was further restricted due to border policy only allowing participants who could arrive before the borders closed to non-Hungarian citizens on 1st September 2020. This instead served for more time for participants to focus on their recommendations to the EU Commission regarding Roma Youth Advocacy.
On the last day of the Roma Youth Advocacy Training, experts such as Anina Ciuciu and Ana Maria Stuparu from Collectif #EcolePourTous had presentations. Anina and Ana's presentation discussed their work as a collective for minority access to education in France, targeting the country's Minister of Education, Jean-Michel Blanquer. This campaign initiative was successful in changing French Law to not allow evictions during the school year, and represents an array of minority students such including that of refugee communities. This presentation served as an important example of targeted initiatives surrounding state policy, and information about methods of leading change.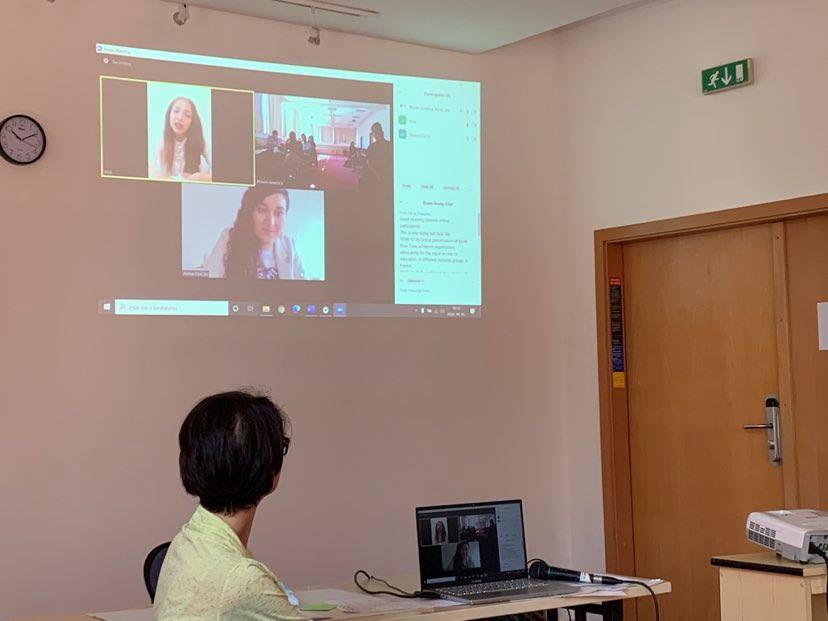 Participants did also engaged with presentations by Illan Selby from EUJS (European Union of Jewish Students), and Pia Slogar from YEN (Youth of European Nationalities). Selby discussed the methods of successful campaigning implemented by EUJS such as the 'Never Again is Right Now' campaign against the Chinese Government's systematic oppression of the Uyghur Muslim population, and about the inner mechanisms of EUJS that works on both national and European level by uniting state-level Jewish organisations to work collectively as one demand for justice, and to increase action on a state level in response to antisemitism and encouraging a wider understanding of Jewish history and culture amongst European States through this network. Slogar from YEN provided a presentation regarding her work regarding European Youth Minorities in uniting collective struggle from those oppressed in general European Society.
Thanks to the professionalism of the trainers, and the engagement of the participants both online and offline, the Roma Youth Advocacy Training was a success. The training offered the chance to the participants to get to know the institutions and the working mechanisms of the European Union, with a special focus on introducing policies concerning Roma in the Post-2020 EU Framework on Roma Equality and Inclusion. It was a pleasure to work with the participants who were Roma youth leaders, activists, multipliers, and volunteers who are active advocates or interested in advocacy in and for Roma communities and experienced in working with Roma communities and/or Roma youth.