Between 26-29 September, 2019 in Kyiv, Ukraine took place the Roma Youth Event "Time to remember: Roma youth remembrance initiative". The event was organized by the Ukrainian Roma Youth Agency for the Advocacy of Roma Culture – ARCA and it gathered 50 young Roma and non-Roma from all over Ukraine and Europe around the Day of Remembrance of the Victims of Babi Yar.
Young people discussed the Roma Genocide in the Commemorative space of Ukraine and the place of youth in community development as well as successful practices in the European Youth Movement.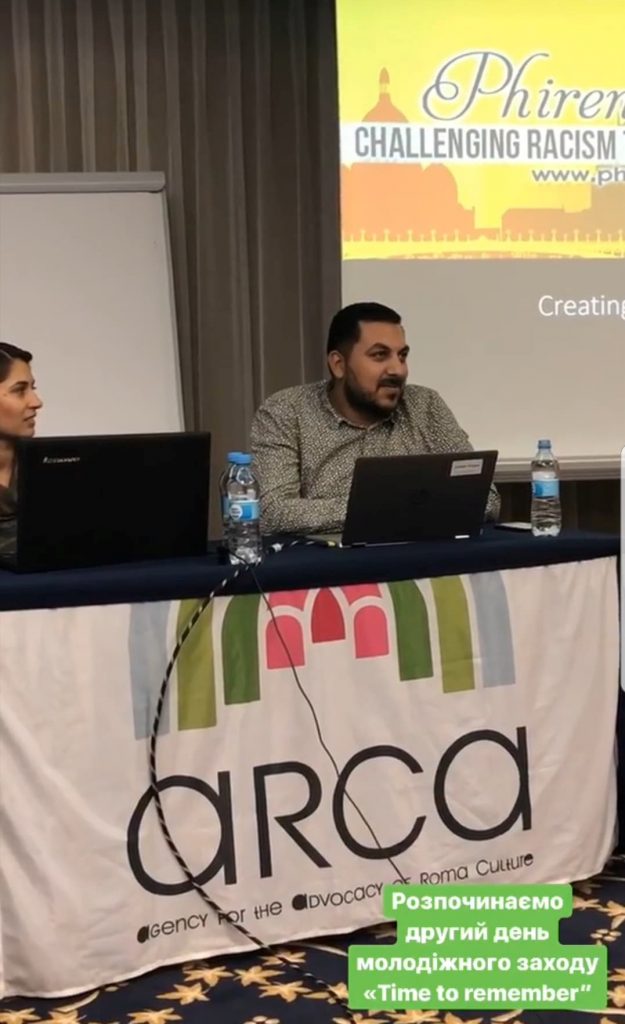 Phiren Amenca and its main activities "Volunteers for change", "So Keres Europa?!", "Dikh He na Bister – Roma Genocide Remembrance Initiative" and "EU Roma Week" were presented by Atanas Stoyanov.
Irina Spataru – Junior expert at the OSCE Contact Point for Sinti and Roma together with Maria Dumitru and Marina Csikós lead a conversation about the decisive role of Roma women in society and the importance of Remembrance.
Besides that, workshops on Theater performance and art therapy were used as tool for remembrance.
More than 100,000 were shot dead as victims of the Nazi regime during World War II in Babi Yar, Kyiv – Jews, Karaites, Soviet prisoners of war, members of Ukrainian national resistance movement, patients of psychiatric clinics and representatives of other national or social groups as well a great number of Roma people. Yet today the Roma victims of Babi Yar are still only briefly mentioned in textbooks, scientific research and guiding tours or even completely forgotten.
The initiative aimed at strengthening the historical narrative memory about Roma victims of Babi Yar and other massacre places in Ukraine and raising awareness among young Europeans, civil society and decision-makers about the Roma Genocide, its local specificities, as well as about the mechanisms of antigypsyism in the challenging context of rising racism, hate speech and extremism in Europe. Young Roma organized a Roma Youth Commemoration and brought flowers at the specially dedicated to the Roma victims of Babi Yar monument.