Online Consultative Meeting in search of a cooperative approach among youth organisations and other stakeholders, 24-26 February 2021
Phiren Amenca participated in the Consultative meeting as an international organisation committed to challenge the discrimination of all people in society. We acknowledge that a lot has to be learnt, reflected on and therefore we were eager to explore what different institutions and other organisations do in the field of intersectionality .
The three-day meeting came about as an initiative of the Joint Council on Youth, and the 3rd priority of the Youth Strategy 2030, : "living together in inclusive and peaceful societies" and the priorities of the Youth for Democracy Programme 2020-2021 provided the policy framework for discussing the topic. More than 30 participants from 28 organizations and institutions took part.
The first day was an introduction to the concept itself and the work in the Council of Europe in the field of intersectionality.
Rui Gomes, Head of Education and Training Division at the Youth Department of the Council of Europe gave a general overview with examples of their work on addressing multiple discrimination and asked the critical question if it can be viewed as intersectional. To introduce the concept of intersectionality and bringing the participants to the same page, Asha Allen from the European Women's Lobby provided practical examples from her professional career and the work of the EWL besides explaining the history and the content of the term " intersectionality ".
Then different units and institutions' representatives of the Council of Europe gave us an overview of how intersectionality appears in their work: European Commission against Racism and Intolerance (ECRI), the Sexual Orientation and Gender Identity Unit, the Office of the Special Representative of the Secretary General on Migration and Refugees, and the Roma and Travellers Team.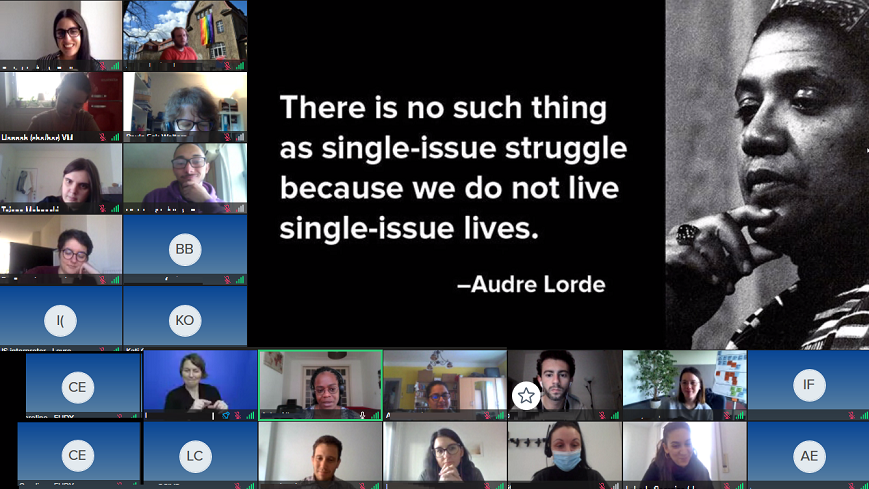 After the expert inputs and sufficient time for questions and comments, participants went to smaller groups and discussed good examples of taking an intersectional approach in youth work:
In the remaining one and a half days, participants discussed what should be done and what is missing at different levels for meaningfully applying an intersectional approach in terms of structures and practices; and what they would expect form youth organisations, youth councils, local and international institutions and member states.
Different organisations, depending on their profile, do differnt things in order to be open for young people experiencing intersectional discrimination: some create content and educational activities forcusing on intersectionality, others invite and include people with diverse identities as experts to take part in building advocacy strategies or diversify their decision-making bodies.
Among barriers, participants mentioned the inaccessibility of the academic language and the discurse about intersectionality; the resistance and fear of minority youth that they would loose status/privilege/mission/visibility if they gave more space for exploring the intersection of different systems of discrimination; the lack of capacity-building opportunjties in the topic, the lack of educational materials and reesources. However, it became clear that many of the represented organisations already apply some intersectional practices, even if they are not conscious or called as such (written captions for pictures, subtitles, etc.).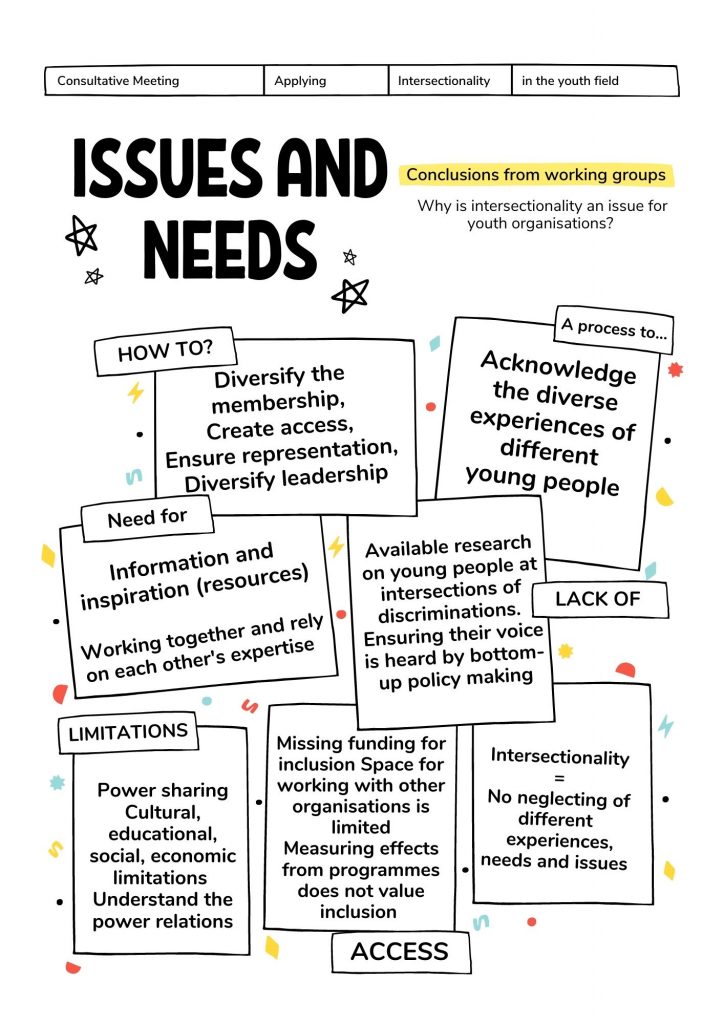 What can be done?
Mainstreaming itersectionality: legitimizes it in the eyes of the state and the institutions
Capacity on intersectionality (including how to deal with power issues, challenging emotions, and conflicts between and within minority groups)
Creation of educational materials, toolkits, with concrete examples of exercizes
(Internal) organizational work: guidelines, strategies, action plans: how to mainstream intersectionality
Intersectional approach in: planning, design, implementation, facilitation, evaluation of educational activities
Intersectional approach in advocacy: representation and participation in the decision-making
More research: on the European level on the challenges and needs of people from an intersectional perspective
Reach out to marginalized within the marginalized
Collaborate with other organizations working with other issues (example: OBESSU & ENIL)
Practical suggestions:
Stating pronouns at the beginning of the educational activities,
Assisted technologies: adding subtitles to videos
Representation: Including people of different genders (women, non-binary, trans), POC in the prep-team of the educational activities.
Reflect on our privileges: Who speaks on the behalf of who?
Accessibility of venues
Educational toolkits and materials: need to provide examples of diverse identities and realities.
Application forms for events: intersectional approach
Ask-don't assume (access needs, pronouns, identities (including gender)
It was a very inspiring event filled with meaningful discussions, and participants and experts shared a lot of useful resources form their practice, which are available for every organization which is wondering how to become more inclusive and apply intersectionality in their work. We are looking forward to further discuss and develop projects and initiatives together with other participating organizations!
Available resources:
Erasmus Student Network (ESN):Under the Rainbow – Booklet about Inclusion Under the Rainbow – A booklet about inclusion by Erasmus Student Network AISBL – issuu
ESN: Intercultural Dialogue Manifesto ESN Intercultural Dialogue Manifesto by Erasmus Student Network AISBL – issuu
ESN: Inclusive Communication Manual ESN Inclusive Communication Manual by Erasmus Student Network AISBL – issuu
CoE: Barabaripen- Young roma Speak about Discrimination Barabaripen (coe.int)
International Falcon Movement- International Committee of Socialist Educational Organisations (IFM-SEI): Rainbow Resources: Compasito Companion on Sexuality and Gender Rainbow Resources v2 English by IFM-SEI – issuu
SALTO: Embracing Diversity- A guide to diversity management for organisations active in intercultural youth work https://www.salto-youth.net/downloads/4-17-4124/EmbracingDiversity.pdf
European Youth Forum: Diversity and Inclusion Guidelines: https://www.youthforum.org/diversity-and-inclusion-guidelines
The International Lesbian, Gay, Bisexual, Transgender, Queer & Intersex (LGBTQI) Youth and Student Organisation (IGLYO): Intersectionality Toolkit https://www.iglyo.com/resources/intersectionality-toolkit-2014/
European Youth Foundation's resources: https://www.coe.int/en/web/european-youth-foundation/resources-on-gender