26-30 June, Slovakia
The Center for Interethnic Dialogue and Tolerance Amalipe (Bulgaria) in partnership with Phiren Amenca International Network and RGDTS (Hungary) is organizing a training course for young Roma and non-Roma activists on "Tackling hate speech online and offline". The training will take place in Valaska, Banska Bystrica, Slovakia between 26 and 30 June 2022. Deadline for applications is 9 June. Application form and more information below.
Background:
There is nothing new about hate speech, except the mode of its delivery. In Nazi Germany, it was state-controlled newspapers and radio. At the time of the genocide in Rwanda, it was a radio station run by the Hutu government. Today, the exponential growth of social media, until recently largely unregulated, has brought with it an increasing propagation of hate speech and hate-based propaganda. In 2019, YouTube said it removed more than 17,000 channels and 500 million comments for hate speech. A subsidiary of Google, it also took down 100,000 videos. In 2021 Facebook reported taking actions against 96.4 million items reported for hate speech.
Very often, both comments on the Internet and in speeches of politicians, articles or reports in traditional media are hate speech especially directed against the Roma people (i.e., Antigypsyism). The European-wide survey "Roma Youth: Challenges and Perspectives" from 2021 revealed that 95% of young Roma observed or encountered discriminatory words, behaviors or gestures directed at Roma. In such a dynamically changing environment, especially due to the influence of social media, it is important to understand for both young Roma and non-Roma what mechanisms to use to counter hate speech both offline and online.
Objectives of the training-course are:
The training course aims to build the capacity of Roma and non-Roma youth leaders and their youth organizations with regards to:
identifying hate speech and antigypsyism offline and online from the perspective of the participants' reality;
providing knowledge on the terminology we use (What is hate speech? What is freedom of speech? What is Antigypsyism? etc.) and the complexity and intersectionality of these phenomena;
examining existing tools to combat hate speech offline and online, among which national and international legislation on hate speech, filling a complaint before an equality body, reporting an online content for hate speech on Youtube, Facebook, Instagram, Twitter, Tik-Tok and others;
reviewing existent and successful campaigns and tools for combatting hate speech and fostering non-formal education (e.g. No hate Speech Movement of the Council of Europe, 'Do you step in?' manual of Phiren Amenca and others); and
sharing the acquired knowledge at grassroots level among Roma and non-Roma youth.
Venue:
The seminar will take place in the Youth Center of the village of Valaska, Banska Bystrica, in Slovakia. As a part of the training-course we will visit the Monument for the murdered Sinti and Roma of Europe during the Nazi time in Banska Bystrica.
Dates: 26–30 June 2022 (including travel days)
Participants profile:
We invite youth activists (18–30 years) in particular members of the Roma minority, who are actively working against racism and for youth/community mobilization. Applicants should be residents of the EU27-countries. 
Application procedure:
Please send your application by filling in the following application form: https://forms.gle/iLZJPkEyB7jze4qS6
Deadline: 9 June 2022, 23.59 PM
Selection results will be sent by e-mail to all applicants after 10 June 2022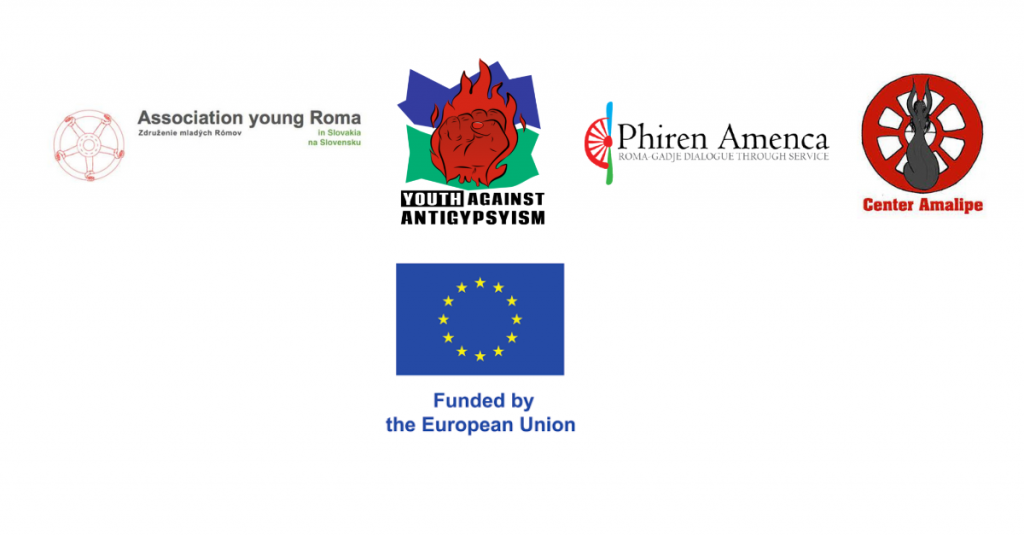 This training is realized under the YAG project by Center Amalipe, Bulgaria. The YAG project (project nr. 101049207) is funded by the Citizens, Equality, Rights and Values Programme (CERV) of the DG Justice, European Commission and coordinated by the Phiren Amenca International Network, Belgium in partnership with RGDTS, Hungary and Center for Interethnic Dialogue and Tolerance Amalipe, Bulgaria. Views and opinions expressed are however those of the author(s) only and do not necessarily reflect those of the European Union or [name of the granting authority]. Neither the European Union nor the granting authority can be held responsible for them.