95 % of the respondents have observed and encountered discriminatory words, behaviours and gestures directed at Roma, while 68 % have encountered racism while attending schools/university. Only 34 % of the Roma Youth have benefited from Erasmus Plus while merely 14% have been part of the European Volunteer Service/Solidarity Corps.
These and other striking numbers are part of the preliminary findings of the 'Roma Youth: Challenges and Perspectives' survey conducted by Phiren Amenca Network and partners presented at a special zoom talk on 2 July 2020 as part of the 'Roma and Politics Talk Series'.

Тhe live discussion was moderated within the framework of the Roma Youth Voices project's "Roma and Politics Talk Series" by the Executive Director of Phiren Amenca International Network, Marietta Herfort, and it was attended by Dr. Simona Torotcoi, author of the research on Roma youth, MEP Romeo Franz, Anti-Racism and Diversity Intergroup (ARDI) and Member of the CULT Committee of the European Parliament, and Mr Rui Gomes, Head of the Education and Training division at the Youth Department of the Council of Europe.

'Roma youth do not benefit at equal footage from the same goods, rights and services as any other EU citizen and this is mainly because of the antigypsyism they encounter', kicked off the discussion Dr Torotcoi. Between November 2019 and April 2020 over 300 young Roma from 8 European countries (BG, DE, ES, FI, HU, SK, RO, UK) replied a questionnaire with over 20 questions, translated in 9 languages. Dr Torotcoi underlined that, overall, there is a lack of quantitative research on Roma youth while there is little, rather qualitative in nature research on Roma children or on topics concerning specific fields such as employment among young Roma.
The importance of the findings, in this sense, is that it fills a huge niche. The survey reveals that the biggest concern for young Roma is not education, nor employment, but racism and discrimination.
95 % of the respondents have observed and encountered discriminatory words, behaviours and gestures directed at Roma, while 68 % have encountered racismwhile attending schools/university.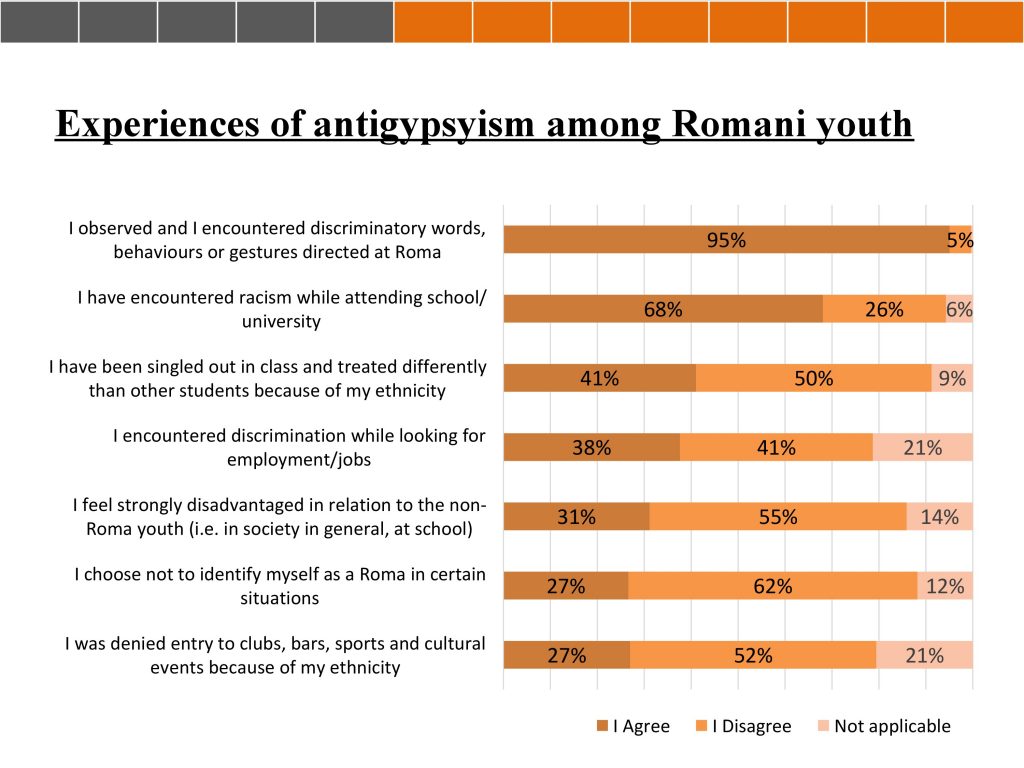 Roma youth are largely excluded from EU Youth Initiatives, stating that either the information on these programs does not reach or that they do not trust public institutions or programmes because of the discriminatory attitudes they receive.
65 % never heard of the Youth Guarantee while only 4 % have benefited from it. 77 % never heard of the 'Your first EURES Job', while just 2 % have benefited from it. The current European youth programs, which should reach everyone, in one way or another exclude Roma youth.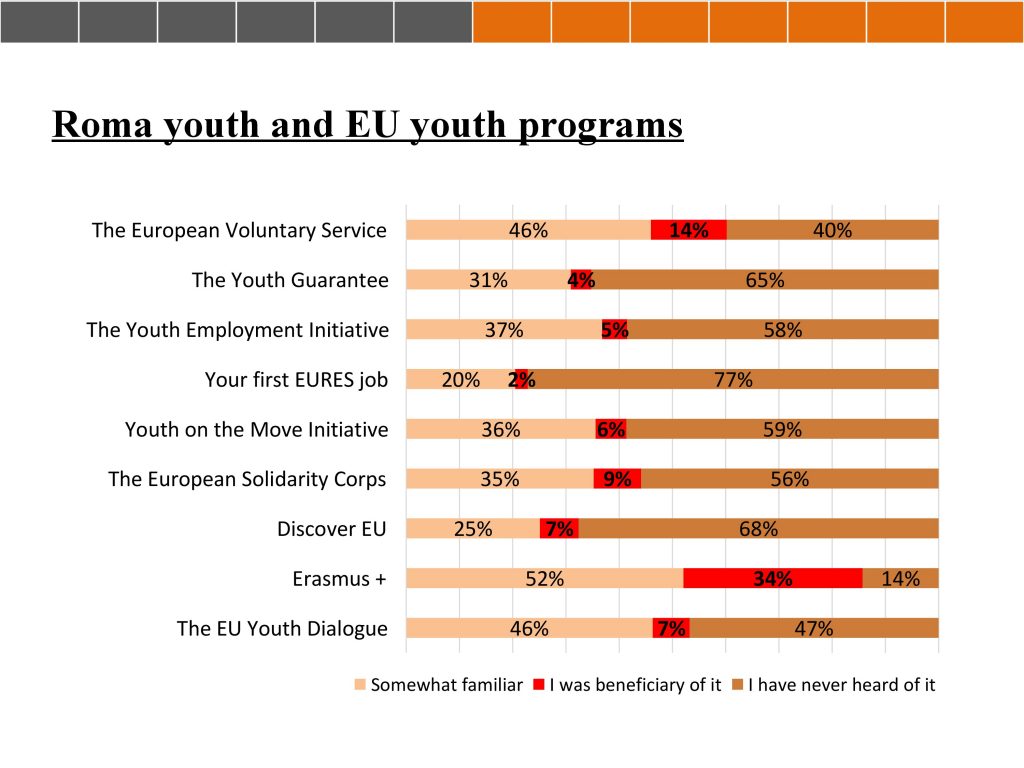 Another interesting finding is that after family and friends, Roma youth seek support mostly from Roma (youth) civil society organisations. In places where there are no Roma NGOs inclusion and participation for young Roma remains a greater challenge. Roma young people that mostly national states and civil society organizations should support them.
MEP Romeo Franz started the discussion stating that he is affected by antigypsyism since the time he is able to remember. He remembers that when he was a child, he was placed to sit at the last table of the classroom and very often he was being bullied for being a Sinto.
'Antigypsyism remains the most neglected form of racism' stated Mr Franz and he added that very few MEPs at the European Parliament have an empathy to the issues of racism and antigypsyism. He gave an example that although in Europe atrocities against Roma are happening on a daily basis a movement RomaniLivesMatter did not happen. Currently Romeo Franz is preparing a report insisting for a Directive on Roma Inclusion – a legally binding instrument which will ease legal sanctions for verbal, physical and institutional manifestations of antigypsyism.
'Why integration? Who is supposed to integrate me? I am against this term. This is a paternalistic approach. Integration means 'Be like me'. But I am Sinto, I cannot be someone else. I don't want to be someone else. For me integration is assimilation. I want to be included. To be given a place on the table. It is time to change terms and approaches. We need a bottom-up approach: where Roma can equally tell what is best for them and not someone else'.

'I am hopeful that we will together work towards preparing the ground for Recommendation of Committee of Ministers on Roma Youth Participation with guidelines and expectations on Member States on what they can and what they should do' stated Rui Gomes from the Council of Europe. 'The Youth department has been particularly active for some years in empowering Roma youth organisations and facilitating their participation within the work of the Council of Europe but also making sure that Roma programs and activities are sensitive to young Roma people.
We want to make sure there is a member of the Advisory Council on Youth that follows Roma youth and actually we have a young Roma on this position. We intend to work further on Roma youth in mostly two ways: we are now analysing and discussing how we can encourage member states to do more for including Roma young people in their programs, in their youth policies and strategies. This connects to one of the findings from the research: that expectations are placed more on the member states, and European institutions should demand that. We may do more being clearer to member states what they can do and what they should do. In addition to this we will keep working with Roma Youth organizations: supporting capacity building for participation, for self-organization or for combatting antigypsyism with a human rights approach. We intend to cooperate further and deeper with our colleagues from Roma and Traveller Team'.
Mr Gomes stated that Roma Youth participation is a very important factor for combatting antigypsyism and it is important that we see this as a part of a wider process in combatting discrimination and prejudice. He referred to the ground-breaking recommendation of the Council of Europe from 1 July 2020 to its members states: that school should include Roma and traveller history in teaching curricula. Rui Gomes stated that they will further make use of the research findings complementing it with other surveys, so that there is an informed policy process.
'Roma Youth organizations and all should do more to sensitize also other European institutions, such as the European Commission, and make sure that Roma Youth participation is a serious and shared cause', said in the discussion Mr Gomes.

The final version of the report 'Roma Youth: Challenges and Perspective' will be published at the Phiren Amenca webpage in early fall.

The discussion continued with questions from the viewers online. The whole discussion you can watch below: https://www.facebook.com/PhirenAmenca/videos/215895419512034