Congratulations to Walk with us – Phiren Amenca for winning the Best European Roma Youth Project 2020 Award! 
The "Youth for Youth" project was selected unanimously from more than 40 applications from 19 countries by the four members of the International Award Committee.  The award ceremony was held online on December 10. 2020 as part of  "The Role and Power of Roma Youth in Mainstream Structures"  conference and the Award was presented by Helena Dalli, European Commissioner for Equality. Commissioners video message for the applicants and the announcement of the winner can be found here.
The Award Committee gave a Special Prize to Ani Kovaceva and for her project "Develop Yourself to Help Others Develop", appreciating her initiative as a young individual. Ani is a 16-year old Roma girl from Kyustendil, Bulgaria. Her passion for education and success, as well as her ambition to help others made her start her own initiative. For three years Ani has been teaching English to children aged 7-13 from her community.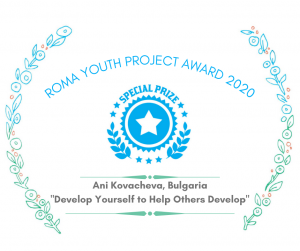 The competition was run by Phiren Amenca and ternYpe International Network and was open to projects and initiatives of Roma and non-Roma NGOs and informal groups which ran between January 1, 2018, and December 31, 2019, in the EU, the Western Balkans, Turkey, Ukraine, and Moldova. Applicants can be found here.
Watch the Award ceremony here.
We want to send a big thank you to everyone who participated in our Award!We are happy to share with you this booklet, which contains some unique and empowering European Roma youth projects selected from the Award applications.