The EYE (European Youth Event) brought together at the European Parliament in Strasbourg and online 8500 people from 93 countries and 37 youth organizations to share and shape their ideas on Europe's future. It was a unique opportunity for 16- to 30-year-olds to interact, inspire each other and exchange their views with experts, activists, influencers and decision-makers, right in the heart of European democracy. EYE2023, the fifth edition of the event, took place on 9 and 10 June and featured both in-person and hybrid activities in Strasbourg. Considering the European and global context and ahead of the European elections 2024, part of this edition's program focused on the role of democracy and youth engagement.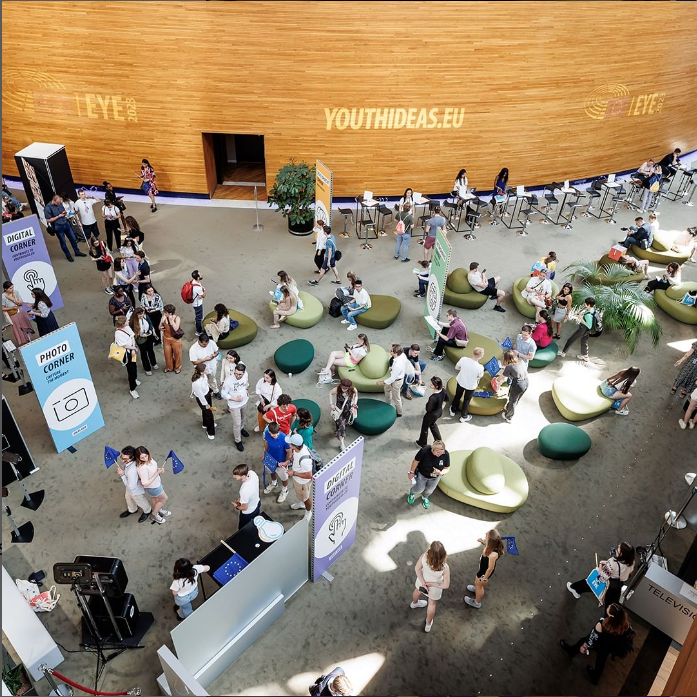 Under the Youth Against Antigypsyism project, we brought 30 young Roma and non-Roma people to the event, in order for them to share their experiences with other young people, to broaden their network and to raise various concerns that affect the lives of Roma youth in front of decision makers. The participants came from many different countries, such as Belgium, Hungary, Slovakia, Bulgaria, Netherlands, Moldavia and Romania.
During the two-days event, the participants had the chance to attend many different interactive sessions, lectures, and debates, including how to improve the labor market for people with disabilities, how the youngsters can use social media for generating social change, or interacting with MEPs and learning about their work at the European Parliament.
Participant said: As a student who attended the EYE 2023 event, I found it to be a valuable platform for engaging in discussions on pressing international issues. The event provided a unique opportunity to network with diplomats, policymakers, and experts from various countries, fostering a deeper understanding of global challenges. The insights gained from the event will undoubtedly shape my future studies.

Dezdemóna Kovács
The training was implemented within the YAG project by Center "Amalipe", Bulgaria. The YAG project (Project No. 101049207) is funded by the Citizens, Equality, Rights and Values Programme (CERV) of DG Justice, European Commission and coordinated by the Phiren Amenca International Network, Belgium in partnership with RGDTS, Hungary and the Centre for Interethnic Dialogue and Tolerance "Amalipe", Bulgaria. However, the views and opinions expressed are solely those of the author(s) and do not necessarily reflect those of the European Union . Neither the European Union nor the granting authority can be held responsible for them.